Trucks Rental, Goods & Sand Truck Projects
Looking for Truck Rental in Congo for the project on Long term contact with reliable Expertise? look no further than contacting Car rental Congo a reliable car Rental firm that offers the best transport services in Central Africa & East African Countries like South Sudan, DR Congo, Uganda, Rwanda, Kenya & Tanzania on tight Budget with Expertise in good transportation.
Car Rental Congo expanded its department of operation to include machinery ( trucks rental within its services) apart from Suv cars, Tourists Vans & Safari land cruisers.
Car Rental Trucks – Long Term Truck Deal
Looking for trucks to carry sand to your construction site or land Clearing for industrial Setup within areas of operation in East and Central African countries.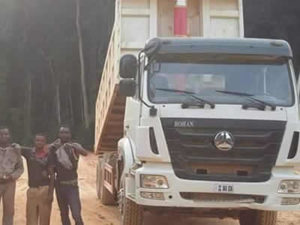 Car Rental Congo now bringing to Congo quality commercial vehicles in the truck rental with a variety of 4 ton and 8-ton truck rentals. Our Group Q++ consists of the Isuzu Closed N Series 4 Ton Panel Van Box Truck (Tail Lift Available) – Be sure to contact us to organize this truck hire for your business.
Car Rental Congo also has the Group Y which is the Isuzu Closed N Series 8 Ton Panel Van Box Truck (Tail Lift Available) As you can see – car Rental Congo has it all in terms of bulk transport hire – guaranteed variety on our fleet, exceptional service and quality truck rental from a quality truck rental company! Honestly the best deal in Congo!
Our truckload capacities currently range from 4 tons to 8 tons. In addition, we have tail lifts to offer our customers. At Car Rental Congo, we aim to meet the client's needs and always do our best to make our rental process as smooth as possible. The best thing about us is that we are flexible with our rental days. These include: daily, weekly, monthly. So you can rent our trucks for as long as you need it.
Waste Management Trucks
Car Rental Congo offers waste Management trucks for rental on long term contracts to Cover the municipals like Goma, Bukavu, Kinshasa, Kisangani, Pointe Noire, Beni, Butembo with extension to military bases. We help make a cleaner, healthier city in any country within East and Central Africa.
More than 50% of cities' waste does not get collected and less than 10% gets recycled. This causes environmental and health problems for everyone.  We are trying to change the way people think about waste and change the current situation for the better.
We collect waste from households, businesses, and factories We take the waste to our decentralized sorting sites where we sort it into more than 40 fractions. We compost the organic waste into high-quality compost; the other materials (paper, plastic, glass, metal) we either recycle ourselves or do so through our partners. This allows us to achieve one of the highest recycling rates in the world – at 95%! Read More about waste Management.
Commercial Trucks for Goods
When you are in need of commercial truck rentals, you need a company you can trust to help your job turn out the way you want. We offer the highest quality commercial trucks to meet any of your needs.
We have a full line of well-maintained trucks to help you complete your jobs quickly and efficiently. When your fleet does not meet your requirements, you have a sudden breakdown or business suddenly peaks, we are here to help you out without quickly and easily.
Heavy-duty  Trucks
We do feeder road trucking services ( Contractors) for the transportation of your products to their final destination in congo & outside DR Congo.
we can also handle the domestic shipping and local distribution of your products throughout major towns of the Democratic republic of congo.
The Transport service may be Generators, Electricity pools, House Construction materials for Army bases, or clearance of land for house construction.  we are experienced in the operation of transport of Materials as we work in partnership with multinational Companies like Red Orange.
Do you have less than a full truckload of goods or equipment to transport? We can accommodate you through our domestic trucking network. Your goods will be safely consolidated with others to reduce your costs and promptly delivered to the desired destination.
For a full truckload of goods, they will be quickly transported from any point and safely delivered to their required destination.
Best equipment with highly qualified operators.
Whatever the project is, Car Rental Congo has a big range of services offered under 5 Departments of Operation in congo & other countries of service like Uganda, Rwanda, Chad, Gabon, Brazzaville, Kenya, the Central African Republic managed by experienced staff who are trained in machinery to handle all risks.
Once you decide to grant a project to us, we shall allocate a particular person to be your project manager for ease communication during the time of the project, and in case you need interpreters, we do hire one.
Then when it comes to machinery for road construction & land clearance: Our forklift & crane rental services, excavators, bucket loaders, crawler bulldozers come with highly qualified operators at the most competitive price.
---
4×4 Gear
Insurance
Manual Transmission
Experienced Driver
Diesel
New Models
To get in on quality truck rental – just call us at +256787471094