Double Cabin Pick up – Land Cruiser, Nissan & Hilux rental Congo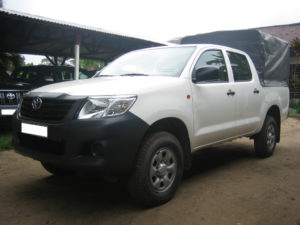 Car Rental Congo specializes in Double Cabin  Pick up from Land Cruiser, Nissan & Toyota Hilux for hire in all its locations in Congo. Get a premium double Cabin to pick up for projects on short and long rental in Butembo, Goma, Bukavu, Pointe Noire, Brazzaville. 
When you need a Pickup rental, trusting the business from whom you decide to rent is essential to ensuring your rental vehicle is safe, efficient, and has the ability to fully support your traveling needs. We feature an extensive line of superior SUV rentals to get you where you have to go in no time.
If your vehicle has broken down or if you need the extra wheels to handle delivery demands, our staff members are here to help you with one of the SUVs have the capacity to provide safe, comfortable, and top-quality experiences for all users, and we guarantee your transportation needs will be 100 percent satisfied.
We do offer pickups for different purposes including the security cars for transportation of security personal of private companies, good transportation, and project work in Africa.
Navara Nissan Pick up is a good alternate to Toyota Hilux or similar trucks. The 2.5L engine with 6 seating capacity makes it a great multiple purpose vehicle.
Don't miss delivering important items to the local community because of transport means, we do offer extensive cars from Pickups, Mini Vans & land cruisers to trucks within Congo at affordable Rates.
Our rental cars are secure, affordable, and trustworthy options when your own car is being out of service. Pickup for rent in Congo known for House Shifting, Relocation, with pickup.  Contact us for Reliable Service in Rental in Congo.
---
Working Air Conditioning
4×4 Gear
Insurance
Manual Transmission
Nissan Double Cabins
Toyota Land Cruisers Double Cabins
Toyota Hilux Double Cabins