Double Cabin  Pick up – Land Cruiser , Nissan & Hilux rental Congo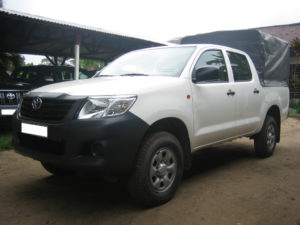 Car Rental Congo specialises in Double Cabin  Pick up from Land Cruiser , Nissan & Toyota Hilux for hire in all its locations in Congo. Get a premium double Cabin pick up for projects on short and long rental in Butembo , Goma , Bukavu , Pointe Noire, Brazzaville
Navara Nissan Pick up is a good alternate to Toyota Hilux or similar trucks. The 2.5L engine with 6 seating capacity makes it a great multiple purpose vehicle.
Dont miss delivering important items to the local community because of transport means , we do offer extensive cars from Pick ups, Mini Vans & land cruisers to trucks with in Congo at affordable Rates.
Pickup for rent in Congo known for House Shifting, Relocation, with pickup.  Contact us for Reliable Service in Rental in Congo.
---
Working Air Conditioning
4×4 Gear
Insurance
Manual Transmission
Nissan Double Cabins
Toyota Land Cruisers Double Cabins
Toyota Hilux Double Cabins